Umauma Tropical Gardens & River Tours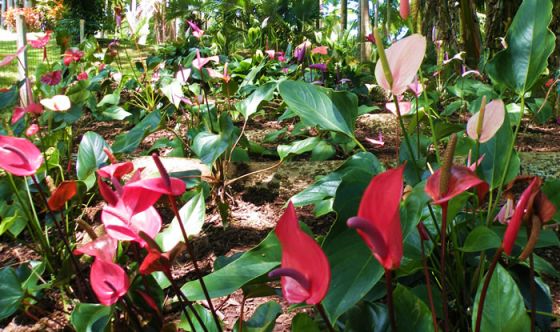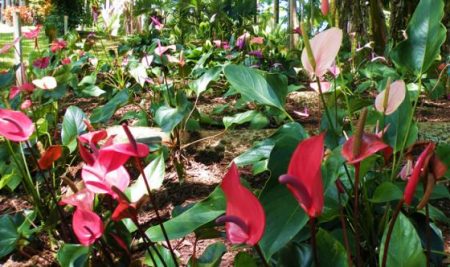 Visit our Big Island's beautiful Umauma Tropical Garden and River Walk located near the famous Umauma Falls! We have many blooming plants and beautiful native and introduced trees and plants.
Walk along Hawaii's Umauma River and enjoy the natural palm forest and river views.  See a very large Hawaiian native Ohia tree in its natural Big Island river setting – look for its distinctive feathery red blooms.  As the river makes a sharp turn we have built two very special decks for your viewing of the river and ocean under some very large unusual smooth-barked Guava trees. If you are there when the guava are ripe we won't mind if you eat a few.  They taste great!  There are two tables on one of the decks.  Take time for a break and enjoy the place and the moment.
The large rope that keeps you on the path and out of the river is a piece of Big Island history.  It was found loose at sea by some local explorers near South Point. It was over 1000 ft long and very heavy.  John Cross, who was born and raised in Hawaii, saved it, stored it and let us use it for this purpose.  Thanks John. He says that it was used by Tug Boats for many years.
Now enjoy a leisurely walk back to your car over two bridges and a mac nut path.  Smell and enjoy the Big Island plants along the walk. As you walk under one of the archways look for some orange blooms on the vine.  It is usually blooming. Look under the very large tree toward the end of the garden and notice the beginning of an Antherium garden.
Do not miss this experience.  Take your time.  This place is special and is partly why you came to Hawaii. Both features can be visited even by people with limited mobility.
Remember to stop by our Visitor Center for a garden map or snack.