Zipline, ATV, Rappel and More at Umauma Falls!
Zipline over Umauma River and falls, rappel down waterfalls, get down and dirty on an ATV, explore on horseback and more with the entire family! Rain or shine the Umauma Experience will be the highlight of your Big Island visit!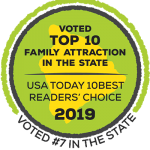 Zip up to 65 miles per hour on 9 longlines, over 14 rushing waterfalls, suspension bridges, and treetops. Experience exhilarating panoramic views of the Pacific Ocean in this one-of-a-kind zipline tour.
Get down and dirty on a thrilling, fun-filled adventure for the whole family to enjoy! Take in a full tour of Umauma's beautiful views on our all-terrain vehicles. 4×4 ATVs or Side x Side UTVs (2-seat or 4-seat)
Starting at: $209 + taxes & fees 
Spend an adrenaline-filled day zipping our full 9 lines, followed by swimming, kayaking, stand up paddle boarding, and relaxing in our private area of the Umauma River.
Price: $285 + taxes & fees    Child (4-10yrs): $275
Explore the Big Island like never before with The Umauma Experience.
We provide a once-in-a-lifetime chance to see Umauma Falls. Zipline over the Umauma River or go crazy in the mud on an ATV with views of the Pacific Ocean. We offer adventures that feature a 9-line, 2-mile zipline, 5.5-mile ATV private course, or something a little milder like enjoying the palm forest and garden along Hawaii's Umauma River. Want to soak in the Hawaiian sun? Consider our river swim and kayak experience. There's something for everyone and their adventure level when you choose us.
Whatever adventure you're up for, The Umauma Experience makes it happen. Create memories with us by booking today.
One of the best experiences we've ever had as a family. Our youngest (10) had the idea but the rest of us were a little anxious. The staff made us all feel safe and welcome. The zip lining was so much fun, and the views...
Wow - first time zip lining and it was really well run and fun!! The team there were attempting to crack jokes and be funny. Highly recommend it. Aloha Bobby
Fantastic! My wife and I did the ATV experience and we had a blast. We did the side-by-side; it was my first time driving that style of ATV. It was super easy to pick up and the trail we went on was lots of fun....
This was a lot of fun and the guides were great! It was a great activity we scheduled on a whim on our honeymoon.
Absolutely amazing place to zip line! You go over a TON of waterfalls and awesome views. We are a family of 6 (11, 9, 8, and 4 year old). We had Kaden, John, and Skippy. They were extremely helpful, kind, fun to talk with, and great...
Amazing experience. First ziplining and I felt very safe. They clip and unclip you as well as help you stop. Good for first timers. All 4 guides were great....
Safety is our #1 priority, and our experienced and highly trained guides will ensure you have a thrilling and exciting experience. Whether it's your first visit or your 101st, each of our experiences will leave you wanting another!