Umauma Falls Zipline Tour
Online special! Book now and save 10%!
14 Beautiful Waterfalls
2-Miles of exhilarating Ziplining Fun!
9 Spectacular Ziplines
4 dual lines!
Cross a Suspension Bridge over a river gorge, lava tube and fern grotto
Great for the whole family!
Ages 4 & up!
4-Line Zipline Tours are also available, call for booking
Take your experience home with our exciting Video & Photo Packages. Details »
The Umauma Falls Zipline Tour
Online special! Book now and save 10%!
The Big Island's Umauma Falls zipline has nine (9) long lines with 2 MILES  of spectacular ziping, over 14 waterfalls and great ocean views.  The first four lines are exciting long dual lines.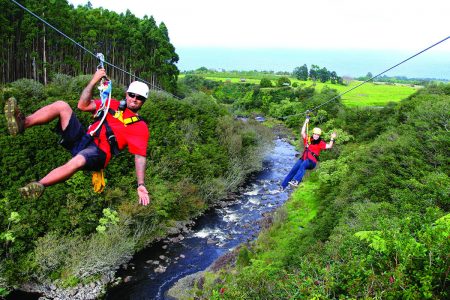 If you love waterfalls like we do, this Big Island zipline is what you're looking for!  It has been said by many people who have toured other ziplines that "this is the best zipline on all the Hawaiian Islands." The Umauma Falls zipline is probably why you came to the Big Island of Hawaii, even if you don't know it yet.
At line #2, you will have time to view the beautiful scenery which includes a view of a 100 foot waterfall as you look toward the top of Mauna Kea.  Most people who live on the Big Island of Hawaii have never seen this beautiful waterfall.  You also visit a shelter that overlooks the river as another river joins the mighty UMAUMA.   Keep an eye out for the native Hawaiian hawk (I'o) that lives in this area.  On line #4 you will zip over 2000 feet of river water and many falls.  This is so amazing you will pinch yourself that you are actually here.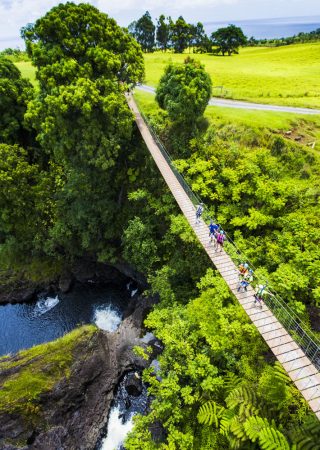 Cross a 200′ suspension bridge that takes you 100′ over a water filled lava tube and fern grotto to get to line #5.  You will get a close up view of the dual waterfall part of the famous UMAUMA FALLS at the end of line #7.  You also get to view the FAMOUS FALLS from a special shelter for zipline guests only.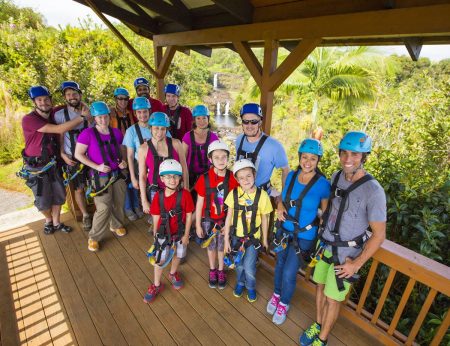 Finally. line #9 sends you back to where you started at the visitors center.
Requirements & Restrictions
Duration: Our Zipline tours generally last somewhere between 1.5 – 3 hours. The tour length varies for each tour. Instruction and travel time can add some additional time for each tour.
No experience necessary
Ages 4 yrs. and up. Weight: 35 lbs. min – 275 lbs. max
Tours run rain or shine. Rain-wear will be provided in the event of wet weather.
Closed-toe footwear, such as sneakers of hiking boots should be worn. Be sure to tie back long hair. Glasses should be secured with a strap. Make sure you remove any sharp objects from your pockets.
Moderate – advanced physical activity – must be able to climb 3 flights of stairs and walk for short distances.
Pregnant women and those with serious medical conditions as well as persons with prior back and neck injuries are not permitted to participate.
Take your experience home with a SPIDERVID Zipline Video
Pre-purchase and save!​
Your own multi-cam, simultaneously auto-edited video of you zipling the biggest line at Umauma, Line #4
Produced, fully edited and ready for purchase on site
Instantly sharable for all your social media apps
Included in this media package:

Feature video (1:10)
Bonus video (0:15)
Action shots (20+)

Comes on both email and SD copy to take home
10% off purchase price if pre-purchased with zipline booking
Hawaii's first zipline offering this new technology from
Pricing:
$30 for your choice of three photos
$40 for your feature highlight multi-camera, fully edited video
$50 for all of your photos, your feature video, plus a short bonus video
*Prices are per pair of two people (one zipline pair going down Line 4). If there are more than two people in the family or group, it is only an additional $10 per every pair of people added to the package.