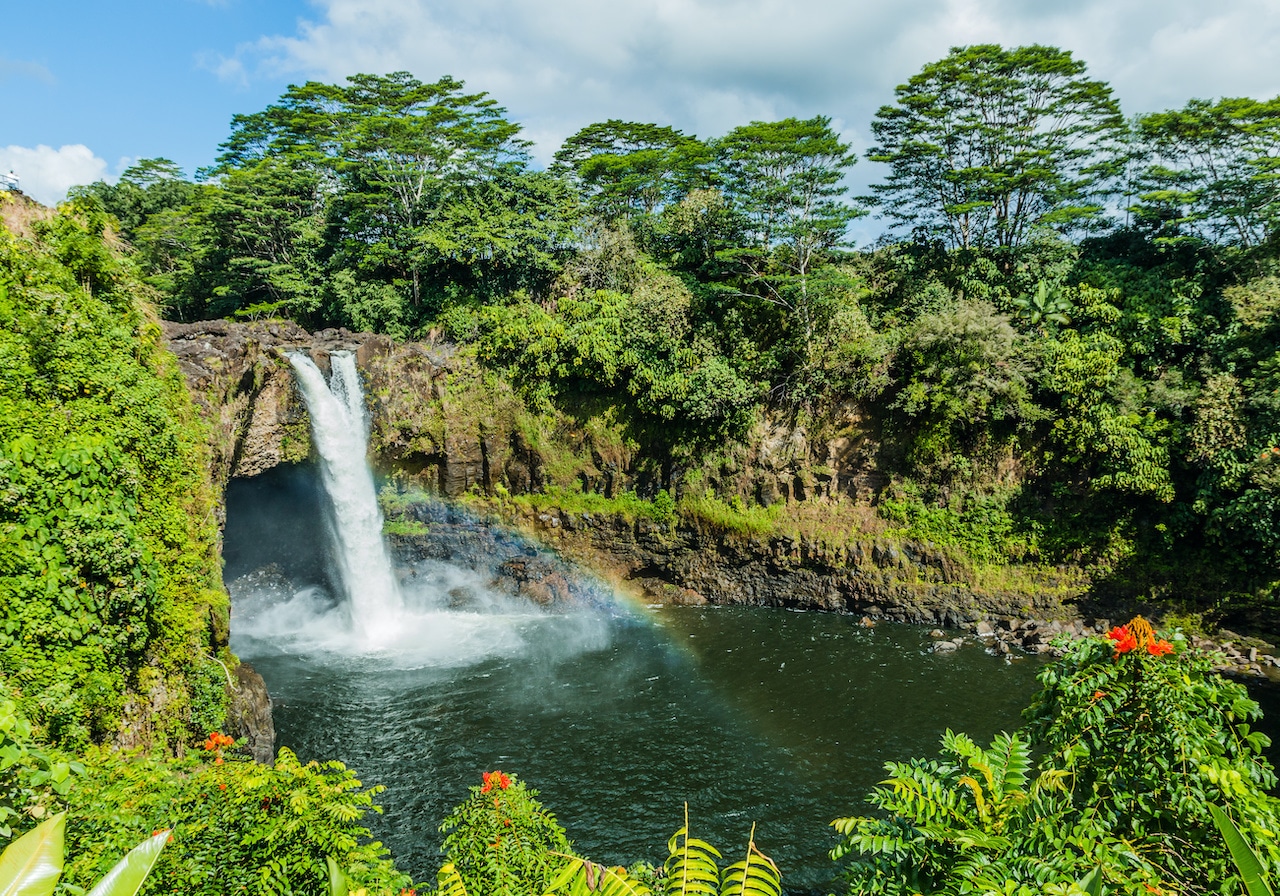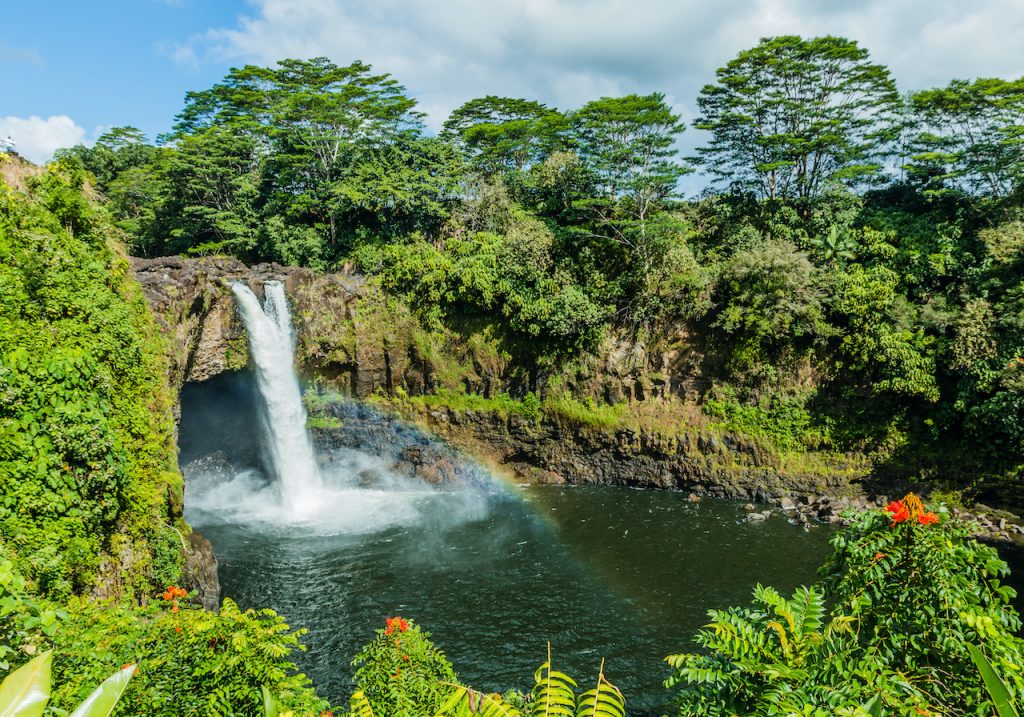 In Hawaii, where life is surrounded by and based upon water, there are many words for this life giving element, depending on what kind you might be dealing with. In 'Ōlelo Hawaii (Hawaiian language), 'Kahawai' means river or stream. 'Wailele' is the word for waterfall. The root word 'Wai' denotes fresh water, while 'Kai' means salt, or ocean water. 'Ua' is the word for rain. Fishermen even have a special name for a certain kind of light, misting rain on the water that is considered lucky for a catch  – 'līhau'. Waiānuenue, meaning, literally, "rainbow water" is the Hawaiian name for one of the Big Island's most legendary waterfalls.
The Waterfall Corridor
The eastern side of the Big Island (Hawaii Island) is where one goes to quench their thirst. If you drive over Saddle Road from the 'dry side' of the island, the landscape magically transforms before your eyes as more and more moisture becomes present. As you begin the descent down into Hilo, lush growths of ferns threaten to swallow up the road and the trees grow taller and taller. In your rear-view mirror, you will see the massive volcanic mountain Mauna Kea receding, often cloaked in clouds, or on a clear winter day, beautifully snow-capped.
The mountain, sacred to Hawaiians, is the origin of this region's fresh water. Rivers, beginning high on its slopes, fed by rain, snowfall, and underground springs carve their way through miles of volcanic rock. Flowing over millennia, they form massive waterfalls as the land erodes and falls in on itself, over and over. These spectacular waterfalls dot the Hilo and Hamakua coast, from historic Hilo town all the way to Waipio Valley — forming the Big Island's unofficial waterfall corridor.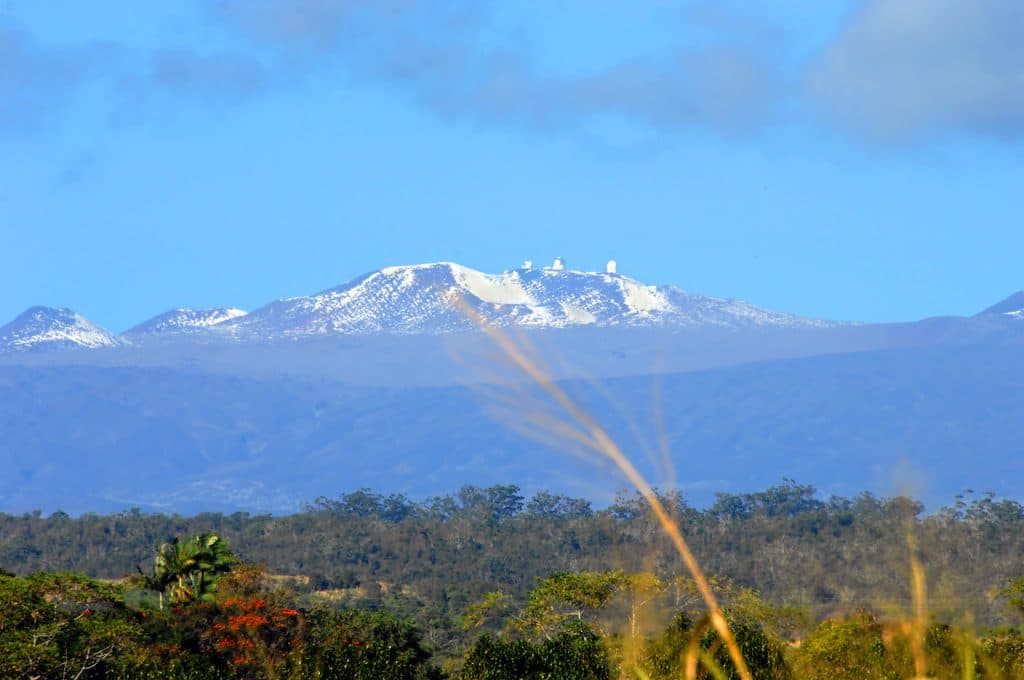 In this article, we will explore a brief history of the Big Island's rivers and waterfalls, and highlight a few of the most stunning falls to visit.
History
In ancient Hawaii, rivers and waterfalls were used for bathing, drinking, and irrigation for farming. Hawaiians grew an abundance of crops including taro, breadfruit, sweet potato, bananas, and sugarcane. Rivers were a life-giving force and the center of many myths and legends. After western colonization of Hawaii and the rise of sugar plantations, massive irrigation efforts were established in the late 1800s and early 1900s. Sugar is an extremely thirsty crop. The book Sugar Water by Carol Wilcox explains:
To produce 1 pound of sugar takes 4000 pounds of water, 500 gallons. One ton of sugar takes 4000 tons of water, a million gallons. One million gallons of water a day is needed to irrigate 100 acres of sugarcane.
Massive ditches, including Hamakua and Kohala Ditch, were designed and dug to divert water to sugar plantations. These gigantic feats of engineering are still intact today. The tour company, Flumin Kohala, offers unique floating tours of the Kohala Ditch irrigation system. The Hamakua Coast, with its abundant freshwater and rainfall, was the epicenter of the Big Island's sugar boom. Sugarcane plantations cleared thousands of acres of land and used the local hardwoods as fuel. Rivers were used not only for irrigation, but for transporting harvested timber. Log flumes were built in many rivers, including one in the Umauma River.
Today, locals and visitors to the island seek out waterfalls for recreation and adventure tourism.
List of Waterfalls on the Big Island by Region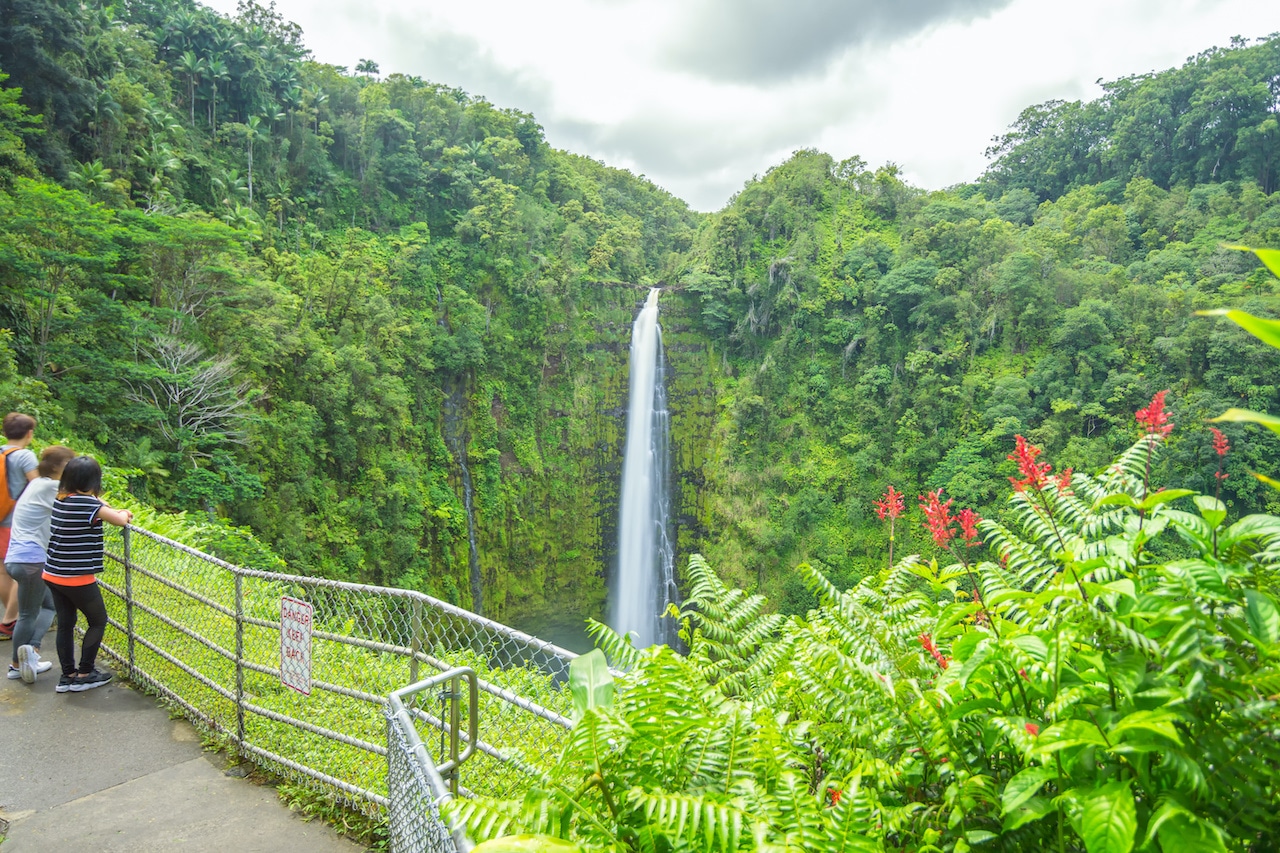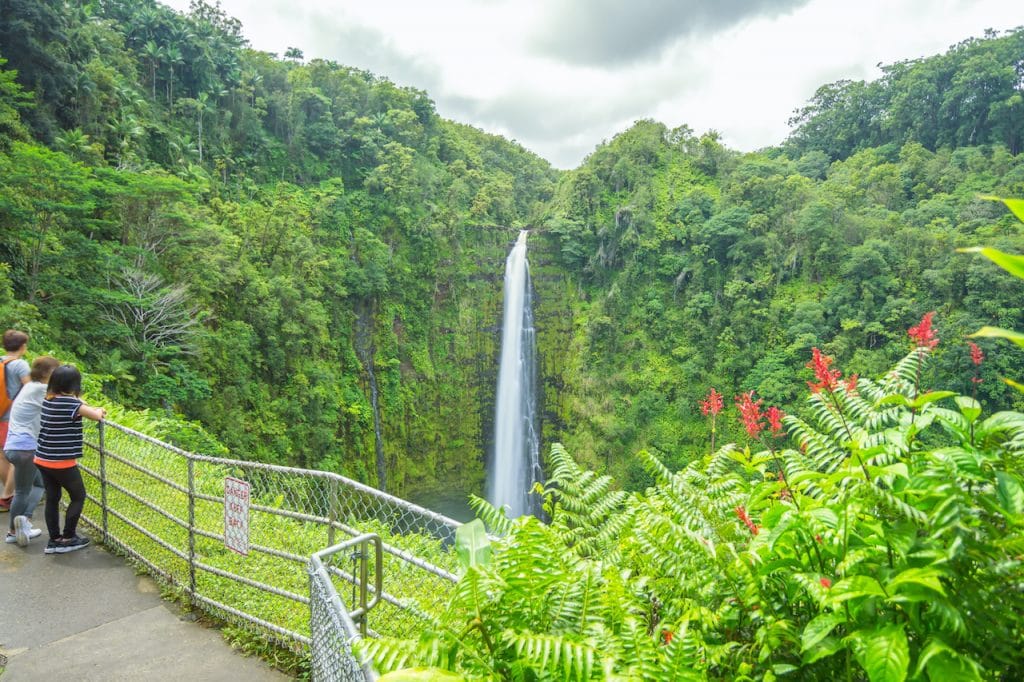 This is a short list of the best waterfalls on the Big Island (Hawaii Island) that are open to the public or can be accessed by a paid tour. Always exercise extreme caution when swimming, wading, or hiking along rivers or waterfalls as they are prone to flash flooding.
Hilo Waterfalls
Rainbow Falls — good for sightseeing, short hike, swimming up river when calm
Rainbow Falls or Waiānuenue Falls, is Hilo's most famous waterfall located just above Hilo's historic downtown. When sunlight hits the mist from the falls in just the right way, a beautiful rainbow is formed. This 80-ft. waterfall on the Wailuku river is the site of a Hawaiian legend that involves the demigod Maui, his mother the Goddess Hina, the Volcano Goddess Pele, and a giant Mo'o or lizard monster up to no good. You can read the full story here.
Rainbow Falls is not safe for swimming. However, the pools in the river above Rainbow Falls can be safe for swimming (at your own risk) when the river is calm and the weather is dry. The river above can be accessed by following the trail to the top of Rainbow Falls Lookout, through the banyan tree grove, and to the right back to the river. There is a smaller waterfall and many pools for swimming and boulders for sunbathing. Stay away from the edge of Rainbow Falls. Both Rainbow Falls and Boiling Pots are part of Wailuku River State Park.
Boiling Pots — good for picnicking, sightseeing
Located a short drive up river from Rainbow Falls, Boiling Pots is part of the legend. Here, water rushes downstream through a series of pools and lava rock formations, appearing to "boil". This is a nice area to hangout for a picnic and watch the falls. The water can be quite rough and is not safe for swimming.
Six Tons — good for swimming, scenic drive, quiet spot
Located on a scenic back road, Old Mamalahoa Hwy, this small waterfall and swimming hole is a little known local favorite and makes for a refreshing dip when waters are calm. Old Mamalahoa Hwy is a narrow road that twists and turns over one-lane bridges and through sleepy residential areas. It is fun to explore different sections of it, which pop up and disappear off Highway 19 heading north from Hilo. Another scenic stretch of it can be found between Honomu and Hakalau. Remember to drive slowly!
Hamakua Waterfalls
Akaka Falls — good for short hike, sightseeing
Located in Akaka Falls State Park, Akaka plunges 442 ft. into a gorge below. Visitors can walk a 0.4 mile loop trail that takes you to an overlook of the falls and past a smaller waterfall. An entrance fee of $5 per vehicle is charged. You cannot swim in Akaka Falls.
Umauma Falls — good for swimming, adventure tours, private
The only triple-tier waterfall in Hawaii, Umauma Falls is one of a kind. (Ok, we may be a little biased.) Located on The Umauma Experience's private property, visitors can zipline over the falls, or experience this natural wonder through a variety of other tours from waterfall rappelling,  ATV tours, horseback riding, and more.
Hi'ilawe Falls — good for guided tours only, swimming, longer hike
Hi'ilawe gets its name from the legend of two lovers, Hi'ilawe (the wahine) and Kakalaoa (the kāne) and is a towering approximately 1300 ft waterfall located in the back of Waipi'o Valley on private property. Because it is only visible from the valley or the air, if you don't take a helicopter tour, you can hike down the valley (Driving is not recommended.). If you decide to hike, remember that what goes down must come up! The steep road descends 900 ft, but you will be amply rewarded with the beautiful, cascading Falls. There are also several organized tours that will take you down into the valley for a closer look.
We hope this post helped get your imagination flowing when it comes to exploring Big Island's rivers and waterfalls. You can learn more about and book all of our experiences at Umauma Falls.