Experience the Beauty of the Hamakua Coast Paniolo Style …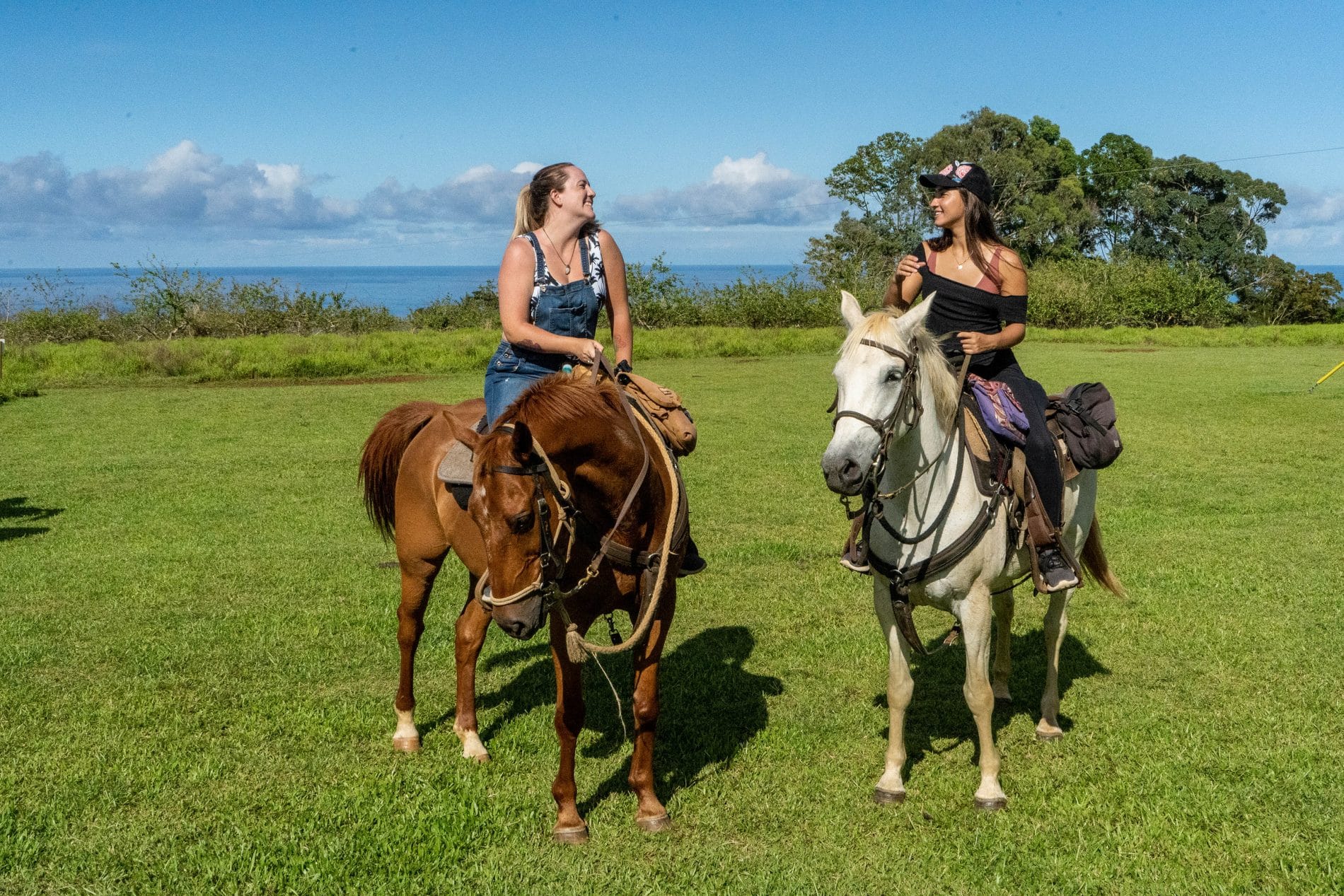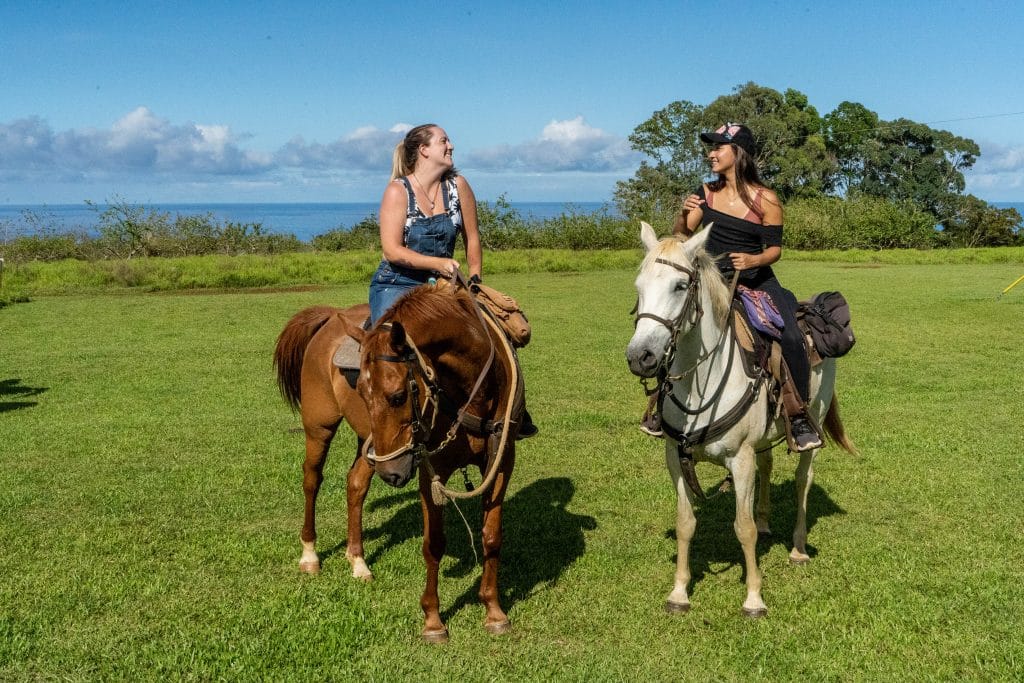 Hawaii has a rich paniolo (cowboy) tradition. It started with the gift of several cattle to King Kamehameha I from Captain George Vancouver in 1794. A Kapu (law protecting them) was placed on the animals to allow the herd to grow and grow they did. By 1846, 25,000 wild cattle roamed at will around the Big Island of Hawaii, with an additional 10,000 semi-domesticated cows living with humans. The cows were a danger and nuisance, eating and destroying native crops, and attacking and injuring people with their giant horns. Something had to be done.
In 1832, King Kamehameha III went to California and hired three Mexican cowboys to come to Hawaii and teach Hawaiians cattle and horse handling skills. Quick learners, Hawaiians became skillful paniolos, years before the tradition took hold in the American West. Ranch culture became a deeply ingrained part of Hawaiian culture. Parker Ranch (est. 1862), the largest ranch under single ownership in the United States is located on the Big Island in Waimea, with 225,000 acres and 50,000 cattle. Several times a year, thousands of locals and visitors gather to attend rodeos at Parker Ranch and other towns around the island. A famous paniolo, Ikua Purdy, is from the Big Island. Hailing from Pu`uwa`awa`a Ranch, he competed in the 1908 Frontier Days World Championship finals in Cheyenne Wyoming, where he placed first in the steer roping contest with a time of 56 seconds. He was inducted into the National Rodeo Cowboy Hall of Fame in 1999. A statue of him stands in Waimea town. To this day, Hawaiian paniolos have their own unique style, wearing colorful flower lei on their hats at rodeos.
Over the years, the Paniolo culture and use of horses naturally extended into island life. Horses offered a quicker mode of transportation overland on the many foot trails that connected different island districts and communities within districts from the mountains to the sea. Early travelers to Hawaii explored its remote river gulches, beaches, and mountains by horseback, as written about by Isabella Bird in her book "Six Months in the Sandwich Islands".
The automobile first arrived in Honolulu in 1899, but the rural Big Island took longer to adopt paved roads and cars as a major mode of transportation. During the sugar plantation era, the Hawaii Consolidated Railroad was built in the early 1900s, running from Puna, to Hilo, and up the Hamakua Coast to simplify transport of people and goods over the dramatic landscape. Then, the railroad was badly damaged in the tragic 1946 Tsunami and was never rebuilt. The old railway route served as the foundation for what would later become Highway 19. As the modern technology of automobiles took over the Big Island, the paniolo culture remained strong within families. In addition to rodeo, horses often play a major role in parades on holidays like King Kamehameha Day ridden by Pa'u Riders.
Today, exploring Hawaii on horseback is a way to connect with the history and culture of the island, and experience pristine back-country areas not accessible by car. While you can't ride a horse down the road in Hawaii (unless you are part of a parade), you can ride horses on private property. The Umauma Experience offers horseback tours in Hawaii on their stunning 260-acre property in partnership with Wailea Horseback Adventures, a Hawaiian family owned and operated business. With over 30 years' experience in the horse trail riding and hospitality business, Wailea Horseback Adventure's guides take guests on a unique tour through the ranch land surrounding Umauma Falls and offer an inside perspective into the history and culture of the area. This tour is the only one of its kind on the island that combines a horseback trail ride with a waterfall swim.
Wailea Horseback Adventures at The Umauma Experience
On the tour, guests will embark from the barn located across from the parking lot on a 2.5-hour trail ride. All experience levels are welcome.  Guests are advised to arrive 45 minutes early for check-in.  The tour begins with a safety demonstration and some riding basics by the guides. Guests will be matched up with a horse that's good for their size and ability. The trail ride winds through the Umauma Experience property, with panoramic views of Mauna Kea, the Pacific Ocean, and Umauma Falls from different vantage points. The route goes through a working ranch, where happy cows can be spotted snoozing and grazing. The tour culminates at the Umauma River, where guests can swim in a private waterfall pool. Water toys, including kayaks and stand up paddle boards will be available to use.
The tour is open to children ages 8 and up. All minors under 18 years old must be accompanied by an adult for the trail ride. There is a maximum weight restriction of 200 lbs. or 102 kg for guests to ride. Horseback tours are held Monday – Saturday. Tour group sizes are limited to a maximum of 8 people, and a minimum of two.
What to Wear & Bring on the Tour
It is recommended that guests wear long pants, close-toed shoes, and a light sweater or jacket. For those who plan to do the waterfall swim at the end of the tour, don't forget a bathing suit and towel. If you wear a hat, make sure it fits snuggly or has a chin strap, so it doesn't blow off while riding. Tie loose hair back for safety.
We advise you to travel light, as no backpacks are permitted on the tour. We suggest bringing a bottle of water, some light snacks, and your camera. Snacks can be purchased at the Visitors' Center. Please leave all other valuables in your locked car. For additional questions regarding the horseback tour, guests can contact Wailea Horseback Adventures directly or check out their helpful FAQ page.
Ready to explore Umauma paniolo style? Book your Horseback Adventure.