Experience The Beauty of Umauma Falls on a Waterfall Rappel and River Swim Tour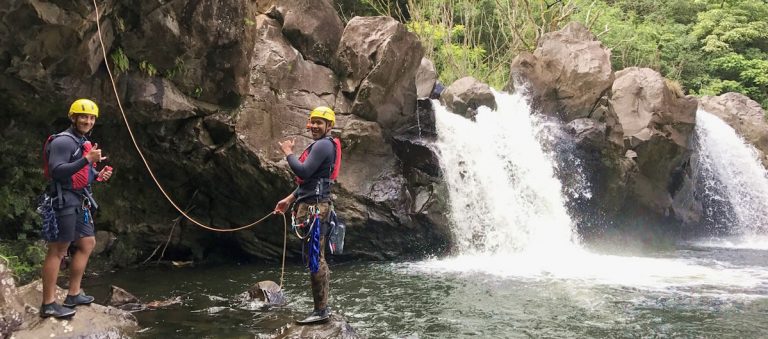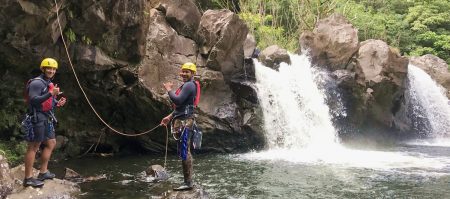 Do you LOVE waterfalls? Have you ever dreamed of exploring and swimming in hidden waterfalls in Hawaii? If you're still reading this, we're going to assume there's a high chance you're a total waterfall nerd. It's OK, we are too.
The Big Island of Hawaii is home to some of the most breathtaking and unique waterfalls in the entire Hawaiian Island chain. The eastern side of the island is where they can be found, from remote Waipio Valley, along the Hamakua Coast, and south to historic Hilo town, there are many beautiful waterfalls that cascade down the slopes of Mauna Kea and out to the sea. There's mighty Rainbow Falls where the demigod Maui battled the giant Mo'o or lizard; famous Akaka Falls, cascading down over 400 ft. to a beautiful pool below; hidden Hi'ilawe falls tucked away in Waipio Valley; and triple-tier Umauma Falls – located on the Umauma Experience property in Hakalau, just north of Hilo.
The Umauma River and Falls
The word Umauma means "constantly flowing" in the Hawaiian language. Fed by rainfall, the Umauma River originates on the slopes of the massive million year-old volcano Mauna Kea that towers over the east side of Hawaii Island. While there are many different waterfalls that have formed up and down the river, Umauma Falls is unique in that it is the only triple-tier waterfall on the island. From centuries of constant flowing and erosion, deep plunge pools have formed at the base of each waterfall, creating excellent swimming holes. The river bed is surrounded by a lush forest canopy, home to many species of birds and a variety of tropical plants along the banks. As a mildly flowing river with a light current, the Umauma River lends itself to swimming and exploration. With exclusive access to the waterfall along the Umauma River, The Umauma Experience offers a unique Hawaiian Waterfall Rappel and River Swim tour.
Waterfall Rappel and River Experience
On the Waterfall Rappel and River Tour, you'll have the opportunity to experience the pristine beauty of Umauma Falls and river valley up close. Limited to groups of eight, with three guides per group, this tour offers an intimate and fun experience for families and friends. Children ages 8 and up are able to participate. The tour lasts approximately 3.5 hours.
The Tour
The tour begins by rappelling 125 feet down into the Umauma valley, directly into the river. Once there, you'll float to a flume dam that dates back to 1910; despite being over 100 years old, this dam is still in excellent condition. The dam's level surface creates a beautiful infinity pool effect in the river. Next, you'll experience a natural stone formation which serves as the perfect water-slide, cascading into a refreshing waterfall pool. As your guides take you farther down the river, you'll rappel down two waterfalls, and swim and float in two large pools. At the end of the tour you can take a final plunge (if you dare) into our private pond from the rocks above. Afterwards, kickback and enjoy a picnic lunch at the gazebo and talk story with your guides.
What to Wear
We provide all your water and safety gear for the tour. While it's warm in Hawaii, prolonged time in the water can cause you to lose body heat, so we outfit you with a full body wet-suit for this tour. We also provide a life jacket, safety harness, helmet, and non-slip water shoes. Just don't forget your bathing suit or swim trunks to wear under the wet-suit! We recommend that you bring a change of clothes for after the tour and your own towel. Our facilities include private showers and changing rooms for your convenience.
What is Rappelling?
Rappelling is a technique originally used by climbers, mountaineers, cavers, and others to descend cliffs or slopes when they are too steep to descend without support. More recently, rappelling has become a popular activity in adventure and eco-tourism, giving adventure enthusiasts access to remote areas and the opportunity to get up close and personal with natural wonders, like waterfalls. Rappelling involves using a climbing harness, rope, fixed anchors and lines, and a descender or friction device that allows the rope to be played out in a controlled manner so you can descend at a comfortable rate.
No Experience Required
No experience is needed to go on our Waterfall Rappel and River Swim Tour. Your guides will walk you through how to properly put on your safety gear, and demonstrate by example how to safely rappel and maneuver through each section of the course, providing assistance if needed along the way. We do recommend that you feel comfortable in and around the water, but being a strong swimmer is not required as you will be wearing a life jacket to keep you afloat. The Umauma River is typically a gently flowing river, without a strong current or rapids, but conditions can change with heavy rains. Our experienced staff monitors river and weather conditions daily. In the case of strong rains or flooding, we will reschedule the tour in the interest of safety.
Ready to take the plunge? Book Your Waterfall Rappel Tour.