When you close your eyes and think of Hawaii, what do you see? White sand beaches? Aquamarine waters and palm trees gently swaying in the breeze? Are you relaxed and dozing off yet? If you travel like we do, then you want something a little more EXHILARATING than the usual 'sunning on a beach in Hawaii' dream. Lucky for you, the Big Island is one of the most diverse, unique and experiential places on earth, with 11 of the world's 13 climate zones, and landscapes that range from lava deserts to rainforests. One of the best ways to explore this part of Hawaii is off the beaten path and via a 4-wheel drive ATV or side-by-side UTV.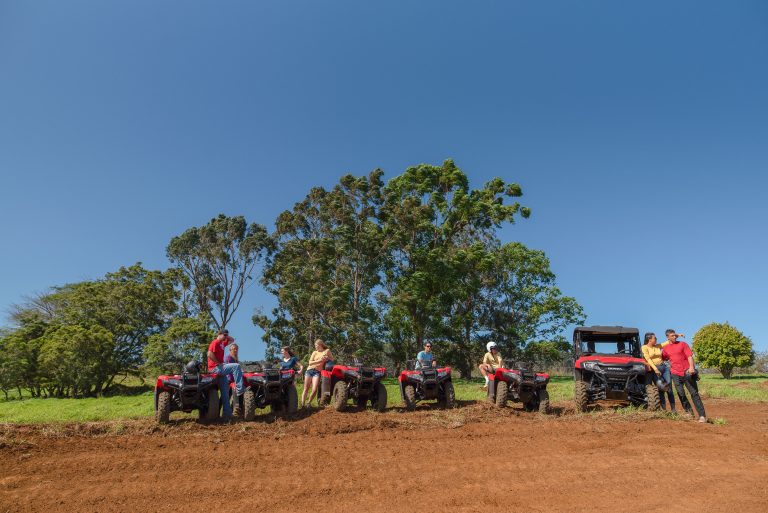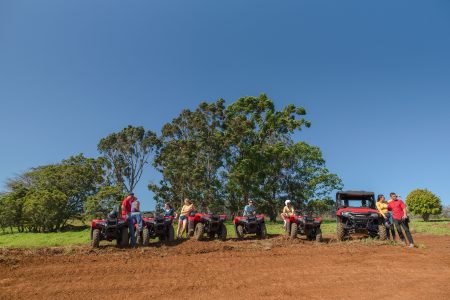 Off-roading is an integral part of the lifestyle in Hawaii, especially on the less developed Big Island where there's more open land to explore. Locals use their ATVs for working on the land, hunting, or just cruising (Around here, all the best secret spots require 4-wheel drive.). The Umauma Experience is situated on the historic and beautiful Hamakua Coast in Hakalau — home to rolling green ranch land, lush Hawaiian plants and flowers, and breathtaking waterfalls; and now visitors can get a taste of real, open backcountry Hawaii on our ATV Adventure Tour. Explore our 5.5-mile private course that runs through 240 acres of pristine Hamakua ranch land. Located on gorgeous private property, you'll feel totally immersed in nature with no development for dozens of miles.
The Umauma Experience is the ultimate outdoor playground.
On this unique tour, you'll ramble through fragrant guava orchards and will stop along the way to check out Umauma Falls — Hawaii's famous triple-tier waterfall — from several different vantage points. Go ahead, take a selfie or 10 at this epic photo spot.  Cool ocean and mountain breezes accompany you as you climb to 1,000 ft. elevation and soak in panoramic views of Mauna Kea above, and the Pacific Ocean below. Then enjoy the thrill ride as you descend back down through twisty turns, and glorious mud puddles.
Make sure you book the Deluxe morning ATV Tour so you don't miss out on the Umauma Falls river swim. Park your 4-wheeler up top and follow the trail past flowering ginger and ti down to the river bed below, and before you lose your nerve, take the plunge into one of Umauma's refreshing waterfall pools. Chill out in our covered picnic pavilion and enjoy a light snack and beverage. This is an excellent opportunity to "talk story" with our guides and learn more about The Umauma Experience property and other local areas of interest. Including the river swim this deluxe morning ATV tour time is approximately 2.5 hours.
If your definition of a good time includes getting a little dirty, you'll love "The Pit". It's a mud lover's paradise and perfect for seeing what our new Honda ATVs and UTVs can really do. This part of the island gets plenty of rainfall, which means our giant dirt pit can get awesomely, fantastically muddy. Go ahead — get in touch with you inner Mad Max and tear it up through the mud. In a stand of trees nearby you'll spot some of the ranch's full-time residents — drowsy or snoozing cows. Don't let their laid back demeanor fool you. They are really aspiring adrenaline junkies who would be in your shoes in a heartbeat if only they had opposable thumbs.
Rookies Welcome
If you've never driven or ridden on an ATV or UTV before, relax. Before you start the tour, our guides will walk you through every aspect of your 4-wheel vehicle and educate you on how to start, steer, ride, and safely come to a stop. After a couple of laps around our practice track, you'll feel confident and ready to hit the trails. If you can't or don't want to drive, you can always ride along as a passenger. No back seat driving permitted! (Just kidding.)
ATV drivers must be 16 years or older with parental permission and a valid drivers license. UTV drivers must be 18 years or older with parental permission and a valid drivers license. Ages 4+ are permitted as passengers. Maximum weight is 325 lbs for front seat riders and 250 lbs for back seat riders.
Ready to explore off the beaten path? Book your ATV Adventure today!