Looking for an exciting way to explore the Big Island's natural beauty? A zipline tour is a thrilling way to experience some of Hawaii's most pristine and breathtaking locations while flying hundreds of feet through the air over stunning river gorges, 14 waterfalls and flowering tropical forest canopies. It's a pretty incredible feat!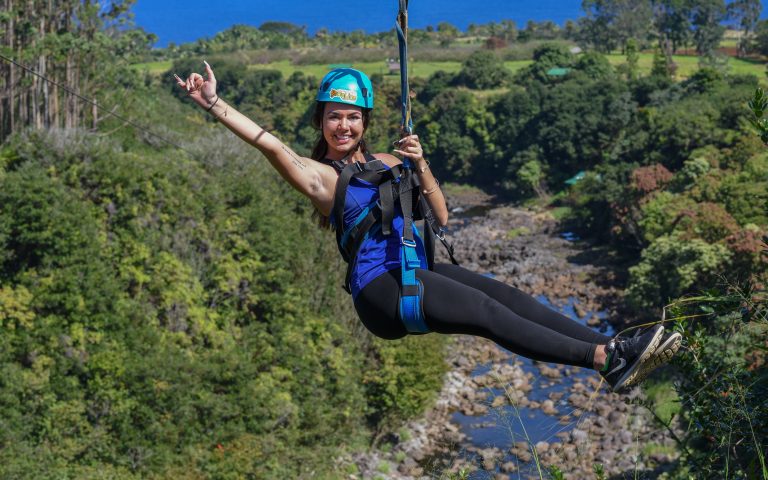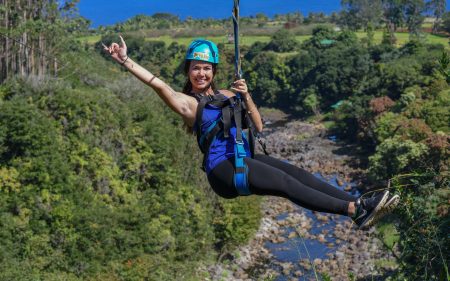 History of Ziplining in a Nutshell 
No one knows for sure when the very first zipline was zipped, but it's generally accepted that centuries ago, a clever MacGyver fashioned the first zipline to transport people and cargo in a remote mountainous region of the world. Today, they are still used in many areas with extreme landscapes lacking infrastructure like bridges and roads. A prime example is in the village of Lazimi in China's Yunnan province, where entire families zip over a wild river to do their weekly grocery shopping.
So who's credited with updating ziplines from a practical necessity to the top activity for adventure seekers and outdoor enthusiasts around the world? A graduate student in wildlife biology. In the 1970s a daring California State graduate student Donald Perry, nicknamed "Hombre Mono" (monkey man in Spanish), constructed a zipline in the Costa Rican rainforest while researching and writing for his 1986 book, Life Above the Jungle Floor. The 1992 movie Medicine Man, starring former James Bond star Sean Connery zipping through the jungle canopy popularized the idea further. It wasn't long before a local entrepreneur recognized the potential for ziplining as a tourism activity and opened the first commercial zipline in 1997 in Costa Rica. In the last decade, ziplining as an adventure activity has spread around the globe, including the Hawaiian Islands.
The Umauma Zipline Experience
The Umauma Experience offers one of the best ziplining experiences on the Big Island, with exclusive access to the triple tier Umauma Falls. Voted best Zipline tour in East Hawaii seven years in a row, the 9-line zipline course takes you flying over a total of 14 waterfalls over the Umauma Rover gorge, offering a unique bird's eye view of its beautiful property on the Hamakua Coast.
 The Tour
Your zipline tour begins with a check-in at our visitors center. You'll meet your guides, who will help you get securely outfitted in your gear and harness and go over safety rules and regulations. Next, you'll jump into one of our roomy, 4-wheel drive passenger vans for a drive up to the top of our property where the zipline course begins. High up at around 1,000 ft. of elevation, you'll enjoy panoramic ocean and mountain views of majestic Mauna Kea. Our friendly and knowledgeable guides will get you set up and securely attached to each line before you zip. There's no need to worry about stopping yourself, as our guides will slow you down as you approach the platform and bring you to a safe stop using the braking system.
As you work your way down the course, you'll see amazing views of Umauma Falls and the Umauma River Gorge below. Secure in your full-body harness, you can comfortably turn upside down or go superman style to get an even more adrenaline pumping experience. Line four is our longest and steepest line, at over 2,060 ft. long, which allows you to reach speeds of more than 50 miles per hour as you drop down and fly across the gorge. To get to line five you'll take a breathtaking walk across a suspension bridge over a water-filled lava tube and fern grotto. Line nine will take you back to the visitors center. After the fun, grab a cup of coffee and a sandwich at the visitor center café and watch from the lanai as other guests zip back home.
Need to cool off? You can take a refreshing plunge in the Umauma River with our Zip'n Dip package. It's an excellent way to unwind after zipping and experience the falls up close. A deli-style lunch is included so you can just stay and relax while floating, swimming, kayaking, or stand up paddling. Kayaks and paddle boards are provided so you can fully enjoy and explore the river.
Fun for the Whole Family
Our zipline tour is consistently rated 5 stars on TripAdvisor by our guests. It's an awesome activity for families, as children ages four and up can zipline on our course. Our dual lines allow you to ride side-by-side, making the experience even more thrilling, as you fly alongside your BFFs and family. Here's what some of our recent guests have been saying:
"Our family of seven had a great time on this adventure. Knowledgeable guides and unbelievable views added to this adventure. I would highly recommend this to an adventurous family looking for fun for all ages."
 "The ziplining was so much fun, the park was beautiful, and the crew was outstanding and made us feel safe. They were very knowledgeable, very funny, and they had us laughing and joking all the way. Great fun, great memory!"
 "My wife was very nervous about ziplining, but the guides made her feel comfortable and enabled us to relax and enjoy the fantastic views. Thanks to Kaneala Rocky and Skippy for an amazing time."
If you still aren't sure about ziplining after reading this, just remember that according to the Guinness Book of World Records, a 106-year-old British great grandfather went ziplining in 2018. This was right after getting a tattoo and riding a roller coaster. To date, he's the oldest person in the world to zipline. If he can do it, you can too!
Are you ready for the experience of a lifetime? Book your zipline adventure today.